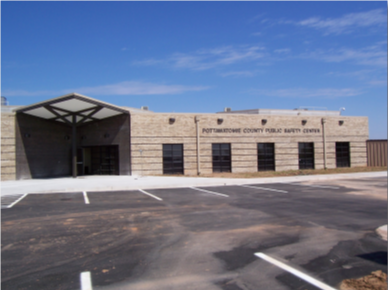 Welcome to the Pottawatomie County Safety Center
Rod Bottoms came to work for the Jail Trust in October 2002. The county began transitioning the responsibilities of the current operations to the Trust. The official opening of the Pottawatomie County Public Safety Center Trust (PCPSCT), meaning when the Jail Trust took acceptance of the jail, was January 1st, 2003. Shortly after construction began for a new jail facility.
On April 12, 2005 a Certificate of Occupancy was issued allowing the Jail to begin operations in the new building. Administration moved into their new offices and training began for all officers. Finally in May of 2005 inmates were moved from the two locations to one. The late Rod Bottoms retired the following year in July.
Since May of 2017, the facility has been under the direction of Breonna R. Thompson. She was previously the Assistant Director of PCPSCT from June of 2009 until appointed Executive Director. She began her career in law enforcement at the Oklahoma County Sheriff's Office in March of 1992 beginning as an officer in the jail and working her way through the ranks to include both supervisor and key law enforcement positions. Since being appointed Director she has diligently worked hands on to bring the facility to greater excellence by implementing new policies, thus improving operations.
PCPSCT continues to take a progressive approach to serving the community. Classes and programs are offered in order to assist inmates with their transition back into the community. Under the Director's vision, upcoming expansions of these types of programs are currently part of the future operation plans of the facility. In addition, a part of these future operation plans of PCPSCT will include additional services for officers, families, and the community as a whole.