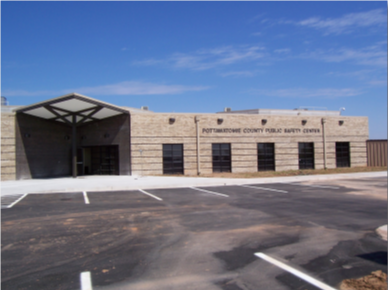 Welcome to the Pottawatomie County Safety Center
The Pottawatomie County Public Safety Center Trust is a public trust established in October 2002 to oversee and operate the jail services for Pottawatomie County.
First, under the direction of Rod Bottoms, the County of Pottawatomie immediately began transitioning the responsibilities of current operations to the Trust. The official opening of the Pottawatomie County Public Safety Center (PCPSCT), meaning when the Jail Trust took acceptance of the jail, was January 1, 2003.
On April 12, 2005 a Certificate of Occupancy was issued to the Trust to begin operations in the new building. Administration moved into their offices and training began for all officers. Finally, in May of 2005 inmates were moved from two locations to one. The late Rod Bottoms retired the following year in July.
Since December of 2007, the facility has been under the direction of Sid Stell. He has over 41 years of experience in law enforcement. He has taken a hands-on approach to bringing the facility to excellence. PCPSCT, under his direction has received two awards from the U.S. Department of Defense: the "Above and Beyond" award and semi-finalist for the "Freedom Award" by supporting and hiring National Guard and Reserve Forces.
PCPSCT provides Life Skills, Literacy, and G.E.D. classes for inmates, as well as other opportunities, to aid in their transition back into the community. The PCPSCT Library Committee, comprised of community leaders, keeps the inmate library stocked with paperback books. This group also donated the computers for the classroom utilized by inmates and officers.
Current facility operations remain at 14209 HWY 177, Shawnee, OK 74804. Our administration offices are located on-site and may be reached by calling 405-273-0043 Monday through Friday from 8:00 a.m. to 5 p.m.